Xiaomi has broken new ground with the Redmi Note 12 series. Not only is this the first mid-range series to feature a 200MP camera, this series is also home to the first phone to break the 200-watt charging barrier.
Note that the four models are only available in China for now, but they should be released to an international audience soon enough. If they do (and assuming there aren't any deal-breaking changes), would you buy one?
We start with the Xiaomi Redmi Note 12 Pro, as this is the pivot of the series. It features a 6.67-inch 120Hz OLED display (10-bit panel, Dolby Vision) and is powered by the Dimensity 1080 (an upgraded 920, the reason of which will become apparent in a moment). There is also a 5,000mAh battery on board with support for 67W fast charging.
This model has a decent camera package with a 50MP primary module (IMX766, 1/1.56", 1.0µm) with OIS, accompanied by an 8MP ultra-wide angle camera (119°) and a 2MP macro camera, plus a 16MP selfie camera.
The Redmi Note 12 Pro was launched in China for CNY 1,700 ($235/€235/₹19,300) for the base 6/128GB model. An 8/256 GB unit is CNY 2,000 (for comparison with the phones below). Are you interested? Vote below or on this page.
The Xiaomi Redmi Note 12 Pro+ improves on two things compared to the regular Pro. First, the camera switches to the ISOCELL HPX, a 200 MP 1/4" sensor (0.56 µm pixels), still with OIS. The rest of the cameras are the same (ie 8MP ultra-wide, 2MP macro and 16MP selfie).
The second upgrade is to the 5,000 mAh battery that now supports 120W fast charging. This means that a full charge from 0-100% can take place in just 19 minutes, instead of 46 minutes on the regular Pro.
The Redmi Note 12 Pro+ starts at CNY 2,200 ($305/€305/₹25,000) for an 8/256GB unit. Want one? Vote below or on this page.
The Xiaomi Redmi Note 12 Explorer is like a Pro++. It keeps the 200MP main camera but improves on the charging technology even further – this is the world's first phone to be able to record 210W. Note that the battery is smaller at 4,300 mAh. On the plus side, 5 minutes of charging brings it to 66%, another 4 minutes to bring it up to full 100%. It's pretty impressive, but unless you're into cutting edge tech, you should probably stick with the Pro+.
If you want the fastest charging phone in the world, the Redmi Note 12 Explorer is available in China for CNY 2,400 ($330/€330/₹27,300) for a unit with 8/256GB memory configuration. Yes or no? Vote below or on this page.
This leaves only the vanilla Xiaomi Redmi Note 12. This is the only one of the series that does not have a Dimensity 1080, instead it uses the new Snapdragon 4 Gen 1 chipset. Also, the camera department has been downgraded to a single 48MP rear camera, a 2MP depth sensor and an 8MP selfie camera (no ultra-wide angle, no OIS on the main module).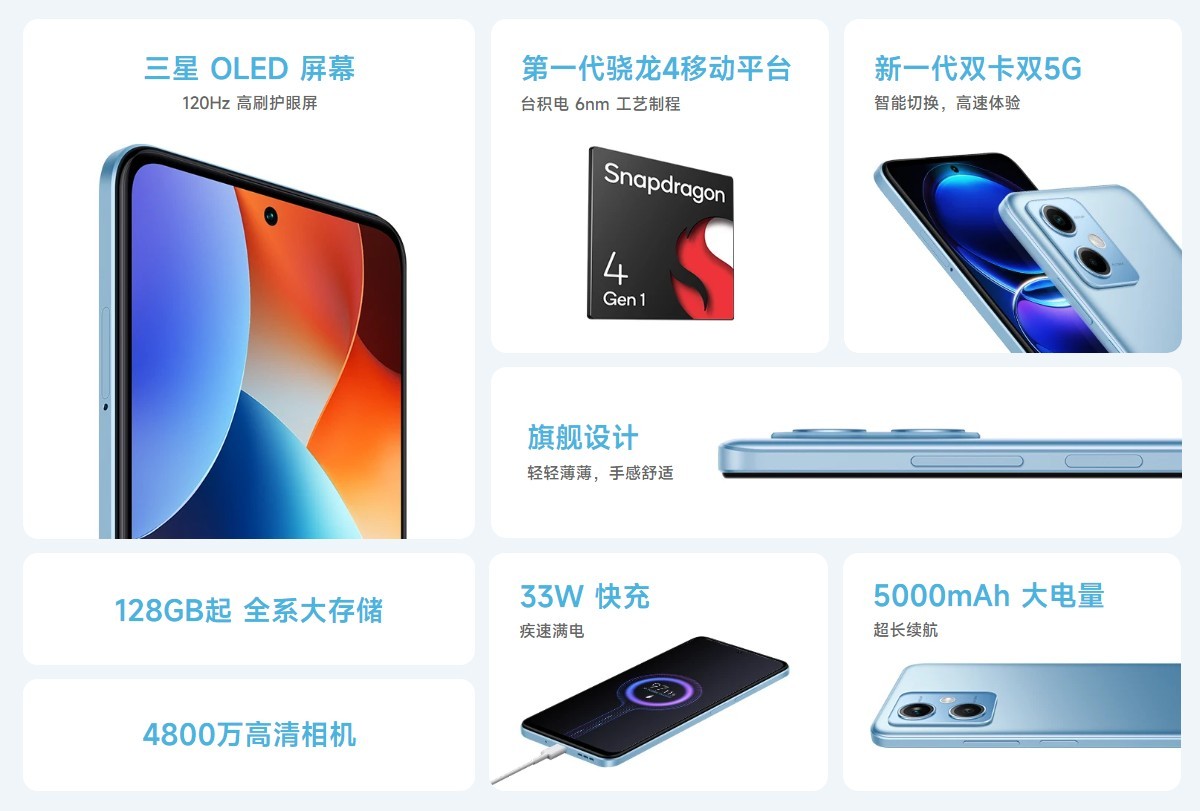 The 6.67-inch 120Hz OLED display is the same size and resolution as the other three displays, although it isn't a 10-bit panel and doesn't have Dolby Vision. Likewise, the 5,000mAh battery drops to 33W charging (still pretty fast, just ask Apple, Samsung and Google).
Unsurprisingly, the Redmi Note 12 is the cheapest of the bunch at CNY 1,200 ($165/€165/€13,500), although this is only for a 4/128 GB model. The 8/256 GB option is CNY 1,700. Show of hands – who wants one? Vote below or on this page.
ps. The Redmi Note 12 series is already off to a good start, Xiaomi sold 350,000 units in its first flash sale.